Stay Three travel for Free offer.
Kangaroo island Source:
At LifeTime Private Retreats you are able to order a selection of gourmet dine-in meal options that feature our best Island produce. Our catering partner and Chef Kate Sumner from Kangaroo Island Source can prepare a range of meal options for you to enjoy in the privacy of your own retreat (self-prepare). Book a Kangaroo Island Source 2-day gourmet food menu featuring our islands premium ingredients and you will receive a complimentary hamper to take home - value $25. See pricing and
menu example here
.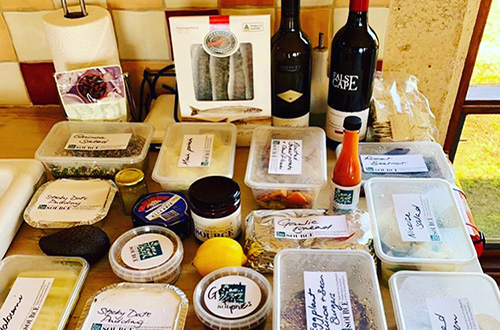 Raptor Domain is an Environmental Education and Rehabilitation Centre.
Join us for our amazing Educational, Interactive and fun presentations. Learn about our awesome venomous Australian critters ( In a safe environment ). Put on a glove and have one of our delightful birds fly to you. Interact and learn about our enchanting reptiles. Ask about our once in a Life Time Private Experiences > Hold one our majestic Wedge-tailed Eagles > Enjoy the Amazing photo opportunities. Join us for 1, 2, or all 3 experiences. Purchase twin offer (the first 2 shows) and receive the 3rd Show  ½ price. Find out more at
www.kangarooislandbirdsofprey.com.au.
Terms and conditions: - Our standard advertised website rates for the Cliff House, Beach Retreat, Sky House, Settlers Homestead and our new Pebbly Beach Retreat apply. - You must book before 5.00pm on 29th February to receive this offer - The above offers are valid for stay up until the 30th June 2020 ONLY - This offer is not available for bookings between the 20-23FEB for KI Cup and 9-13APR for Easter. - Offer includes one standard car and 2 passengers from Cape Jervis to KI return, times of travel dependant on availability and must be booked at the same time as the accommodation. - Extra passages traveling on Sealink (after 2) are an extra $30 per person for the return ferry. Flat rate, no concessions for children, pensioners, etc. apply - Partner offers - book directly with the participating partners – contact details supplied - Standard accommodation terms and conditions apply. - All bookings must be made directly with LifeTime Private Retreats.