Can foraged foods really make up an authentic meal or have they just become 'Celebrity' ingredients used to make fancy chefs look cool?
I admit, it had been a big day in Adelaide before I boarded the Sealink ferry for one of my regular visits to my luxury accommodation business, LifeTime Private Retreats Kangaroo Island.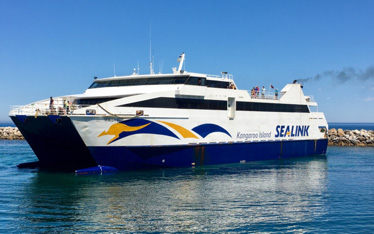 It was late in the afternoon before I drove off the ferry. After a 45 minute drive I had a lot on my mind as I hit the dirt road and started to drive towards the stunning north coast of the island. I caught up on some missed phone messages before the hands free cut out and the radio crackle became inaudible.
Deep in thought about my week ahead, autopilot got me safely to our family's little cottage that is nestled amongst the sheoaks. The one bed cottage looks over stunning Snellings Beach where our luxury holiday accommodation retreats on Kangaroo Island are situated.
Unpacking the car, and taking in a deep breath of the salty sea air, I was looking forward to a quick walk on the beach before putting my feet up until I noticed that I had completely forgotten to stop and pick up food supplies. Now to fully appreciate what a mini-disaster this actually was, understand the nearest shops were basically 45min away in the direction I had just come.
It was around 5.30 and the sun was getting very low in the sky. I rummaged through the cupboards and the fridge freezer to find one quarter of a bag of Kangaroo Island Laucke flour, Kangaroo Island Olive Oil, butter, half a jar of preserved lemons and some old fish bait. I'm pretty creative with throwing together a quick meal but this was pushing my limits.
I reckon I had 45 minutes until dark, so I decided to set myself a challenge. Find a fully-fledged foraged Kangaroo Island meal before dark!
• At the 5 minute mark – I went to the fishing box, found a squid jag and ran down to the pebbly beach that was around 200 meters away. My mate had his little tinny tied to a rock and I thought he wouldn't mind if I borrowed it. The water was calm and like oil. With two small oars I rowed out just beyond the rocks and threw over the jag.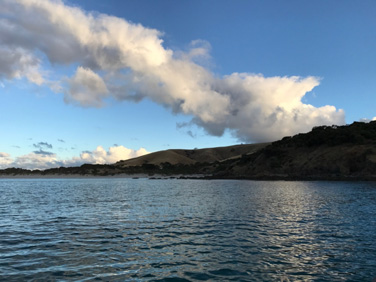 • 10 minute mark – nothing. I found a small hand real in the boat and threw the line over using some of the fish bait.
• 15 min mark – nothing. Now feeling slightly anxious, I was scanning the shoreline for other food to forage when I got my first bite and pulled in a small sardine.
• 20 min mark – nothing substantial. I said to myself 'one more minute' then at 60 seconds I started to slowly pull up the line. Around three meters from the surface the line went tight, black squid ink stained the water. I had caught a glorious shimmering Calamari.
• 30 min mark – I rowed the boat back, and collected a handful of periwinkles from the rocks and then collected handfuls of native spinach (Tetragonia) that was growing on the higher shore line I spied from the boat.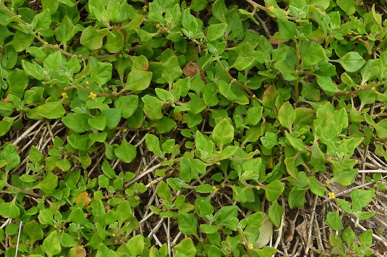 • 35 minute mark – Salt, I needed salt; I can't eat food without salt. With the sun now gone, I scooped up some salt water in an empty beer bottle and scrambled up the hill back to the house in the near darkness.
• 40 minute mark – I had the ingredients for my dinner! I used the last five minutes to make bread with the flour and oil (lucky it was self-raising flour) and boiled down the water to make some salt.
This was the menu I created:
Entrée
Crispy whole sardines with periwinkle butter and pickled lemon
Main course
Olive oil fried calamari rings on steamed native spinach with crunchy damper bread.
It was one of the best meals I have ever eaten.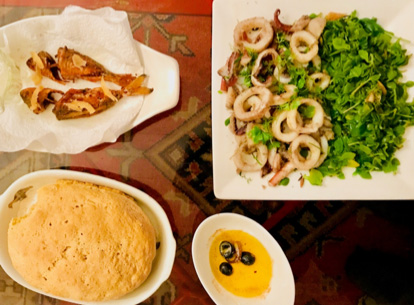 It's not about the trend or hype or ego, it's about a deep understanding and connection with the land.
There is a big difference between cooking for myself and a chef cooking in a metropolitan restaurant. I had no need to promote the natural wonders of the Kangaroo Island brand, or promote the values of local produce and foraged foods. I had nothing to gain financially and I was not trying to promote my own brand or restaurant. Stripped away of these incentives, I wanted to see if Kangaroo Island's foraged foods could still deliver an authentic modern meal. And it did-it actually exceeded my expectations and left me in awe of my harvest.
I have been very lucky and privileged to grow up on the land, so I knew where the produce was, what might be growing, and I knew where to find a boat.
For this reason I understand it's not realistic or practical for a city based chef to roam the hills and forage every day for their diners however I don't believe the challenge is about practicality or sourcing the produce, to me it's more about what kind of a relationship that chef is prepared to have with the land.
So in the end, this is has turned out to be a love story… I love my island, it is my spiritual home and days like that fill me up and give me reserves to draw on when I'm stuck in traffic or in front of a computer.
Foraged foods can be seen as a bit of a trendy phrase or, tokenistic to some, popularised by celebrity chefs. But they can be used with integrity and depth of understanding. Experiencing an authentic dining experience comes down to passion, respect, trust and how deeply that chef is prepared to fall in love…
For a true taste of Kangaroo Island food check out Life Time Private Retreats catering.